Automatic bollards are designed to control access in public and private areas to regulate traffic fluidity in urban and pedestrian zones and to guarantee the antiterrorism security at embassies, military zones, police stations, banks and other vulnerable places.
Automatic Bollards are a perfect solution for security needs against terrorism at restricted and protected access zones; those bollards are specially designed to support a crash of a vehicle collision without deforming or affecting the system.
In the same way, these bollards are brought under impact tests in order to guarantee perfect operation and are also tested in durability studies.
The valves have a
frequency of
The application of this bollards is designed for areas of many users entailing their constant movements; the pop-ups and pop-downs are automatic (initiated via remote control, proximity card, push button, GSM, GPRS, etc).
IdeA manufactures its control systems in Stainless Steel AISI-316-L Marine Anticorrosive due ton its proven durability against water, rain, snow, nitrate, sand and collisions. This material is considered the best compared to any other. In some cases IdeA manufactures its bollards in steel that is plastified or galvanized, covered in rubber or recycled materials, as required by its clients.
Even though its standard equipments height is up to 500mm 700mm or 1000mm, IdeA, as a manufacturer, adapts its bollards dimensions according to specific requirements of each client. 8mm is considered standard thickness. Nevertheless bollards are manufactured with steel sheet thickness always depending on the application, for example, the anti-terrorism bollards are manufactured with 22mm thickness.
Automatic bollards according to their use and frequency
Access control where intensive use is applicable. Recommended for 20,000 cycles per day. Simplicity of installation and maintenance, reliability in operations, and longevity.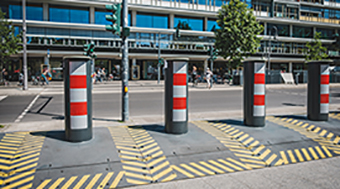 Anti-terrorism security. Recommended for 1.000 Cycles per day applicable.
Maximum lifting strength and resistance to vertical loads.
High security and private use (residences, garages, etc) with Slightly Intensive Use. In this case, heavy traffic flows not recommendable. Recommended where 100 cycles per day applicable.
Automatic Bollards according to its use and frequency
Pedestrian areas access control, traffic control, access to squares, streets and avenues control access…